Daves Old Computers - Various CP/M Machines
This section documents machines which run the CP/M operating system, and do not yet have a dedicated section.
Click any photo to view a large high-resolution image.
---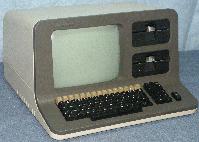 The NorthStar Advantage is the all-in-one successor to the popular Horizon. This single-board system contains a Z80 processor, 64K RAM, the same NorthStar Double-Density hard sectored floppy controller that made the Horizon so popular, and an impressive for the time graphical display system. Like the Horizon it runs NorthStar DOS, CP/M, UCSD P-system and a new "GDOS" (Graphical DOS) with "GBASIC" (Graphical Basic).
Views: Back, Inside, Documentation. Download Technical Manual (30M PDF).
Donated by Joachim Thiemann.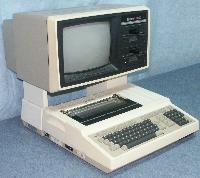 Manufactured by OKI Electric in Japan, the IF800 was marketed by BMC in other countries. This is a large (heavy) business machine with integrated printer. The monitor features buttons along the bottom edge for touch menu selections.
Views: Back, Connectors and slots, Documentation, Apr84 Advertisement, May82 Byte Review (715k PDF).
Donated by Richard Parsons.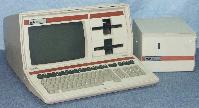 The Management Assistance Inc. (MAI) BASIC Four is a semi-portable machine which runs CP/M or BB/M, a system based on MAI's Business BASIC. Business BASIC includes enhancements for database file access, and muttitasking. Also shown is the MAI 20M hard disk drive system. Views: Back, Documentation.
Donated by Richard Parsons.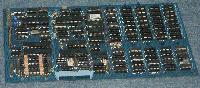 The Ferguson Big-Board was offered as a bare board, kit or ready-to-go. This made for an inexpensive and reliable CP/M system and was built up by many early hobbiests. It even had it's own users magazine, Micro Cornucopia. The Big-Board design was licenced by Xerox to form the basis for the 820 and 820-II systems.
Big-Board Advertisement from Byte (150k JPG). Schematic Drawings (580k PDF). Donated by H. C. Colford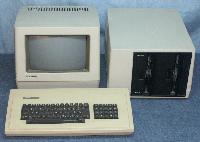 The Xerox 820 is a very reliable and rugged CP/M system. This -II model is upgraded with a smaller cabinet, slots on the mainboard for more expansion options and the ability to support hard disk drives. The machine can support either 8" floppy drives (shown) or 5.25" drives.
Views: Back, Mainboard, Original Xerox 820 mainboard.
Xerox 820/820-II Service Manual (6.3M PDF)
Donated by Richard Parsons.
The Nelma Persona 100 is a Canadian made desktop CP/M system. As you can see, it took advantage of the low cost IBM-PC clone cabinets which were becoming available at the time.

Views: Back, Inside, Nov83 Advertisement.

Donated by Richard Parsons.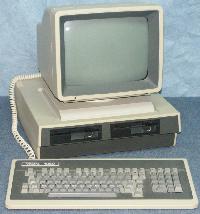 The Visual Technology Visual 1050 is a later entry in the desktop CP/M arena. It features a high resolution graphics display which utilizes a separate 6502 coprocessor and 320k of video RAM.

Views: Back, Documentation, Apr84 Advertisement.

Documents: Users Guide (7M pdf), Maintenance Manual (2.2M PDF), Programmers Technical Document (1.7M PDF).

Donated by Richard Parsons.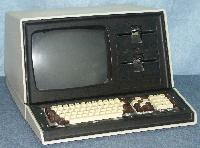 The Megatel Quark 100 is a tiny Canadian made single board computer. Less than 4"x6", it contains: Z80, 128k, text/graphic video, FDC, serial, printer and keyboard interfaces. The machine shown is actually a homebuilt, using a generic chassis and a Quark-100 board.
Views: Inside, Documentation.
Megatek Quark-100 Manual (6M PDF).

Donated by Richard Parsons.




---
Back to Old Computers

Copyright 2004-2007 Dave Dunfield.