Daves Old Computers - Dy4
Dy4 is a Canadian computer company which was located in Ottawa Ontario. They were best known for their line of industrial STD bus cards, cages and enclosures, however they did produce a few complete computer systems.

Click any photo to view a large high-resolution image.
---
Orion-V
The Orion-V is a STD bus based Z80 CP/M system featuring dual full-size 8" diskette drives. In addition to the desktop unit shown here, it was available in a 19" rack mount chassis. Two of the Orion-Vs were donated by Richard Parsons.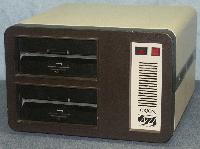 Orion-V

View from back.
Inside view showing STD bus on left, and 8" drives on the right. The internal power supply is a large switching unit located under the STD cage.
Installed cards are (left to right): I/O, CPU, Disk-Controller, 64k RAM, 256k RAM (used as a RAMdisk)
Dy4 STD card documentation
DSTD101 CPU and parallel I/O (2.2M PFD)
DSTD102 CPU and serial I/O (720k PDF) later version (1.1M PDF)
DSTD188 CPU and serial I/O (710k PDF)
DSTD201 Serial/Parallel I/O (1.6M PDF)
DSTD202 Quad serial communications module (885k PDF)
DSTD328 256k dynamic memory module for DSTD-188 (1.5M PDF(
DSTD401 RS-422 serial interface with DMA (1.9M PDF)
DSTD402 Parallel interface adapter - winchester innterface (1.9M PDF)
DSTD503 Bytewide memory card (1.6M PDF)
DSTD703 Multi funtional calendar/clock card (1.6M PDF)
DSTD711 Dual density floppy disk controller with DMA and 64k DRAM (2.1M PDF)
DSTD777 High resolution graphics controller (1.1M PDF)
DSTD806 6-slot STD card cage (600k PDF)

---
DMS-6816
This is a VME bus workstation from the mid 1980's. I received it from a guy who said he had a "box with an 8-inch diskette drive in it", however it turned out to be a complete computer.
This machine comes up into a ROM monitor, and you can boot a loader from the hard drive. It appears that the Unix operating system has been removed (this machine came from the Canadian Federal Government and I would guess that they wipe all computers before disposing of them).
It contains a Motorola 68000 processor, and a Megabyte of RAM. It has an 8" floppy disk, and a full height 5.25" hard drive. There are 6 serial I/O ports on the back panel.
Attempts to find information about this machine have been unsuccessful. Due to it's apparent rarity, and the fact that it is of Canadian manufacture, I have sent it to the York University Computer Museum in Toronto. If you have information, software or any other material relating to this machine, please contact me or YUCoM.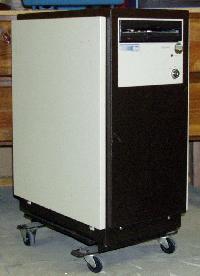 DSM-6816

Closeup of front panel.
View from back (Note multiple serial connectors)
View from left side, and right side with covers removed.
View from front with cover removed (VME card cage)
Closeup of CPU card.
Closeup of IO card.
---
Dy4 Orion-V Operations Manual (1.6M PDF).
1982 Dy4 short form catalog Orion-V: page, Full Catalog (3.7M ZIP/JPG)
1986 Dy4 VMA short form catalog DSM-6816: page, Full Catalog (1.6M ZIP/JPG)
1987 Dy4 catalog DSM-6816: page1, page2.

---
Back to Old Computers

Copyright 2004-2005 Dave Dunfield.