Daves Old Computers - Microsoft
Arriving late in the home video game arena, Microsoft's XBOX with it's focus on more "mature" games and realistic violence, along with it's online capabilities quickly made it a console of choice for young male gamers.
Click any photo to view a large high-resolution image.
---
XBOX (original)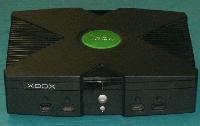 Microsoft's first gaming system, the XBOX is almost a PC inside. Based on a custom Intel CPU, Nvidia video chip, and having hard and optical drives like a PC, it's software is based on Microsoft's PC offerings - Graphics are based on the PC "Direct-X" system. Although the system incorporates a DVD drive, playback of DVD movies is only possible with the DVD remote (shown) which has a combination sensor/key to unlock DVD playback.
Views: Back, Bottom, Game discs.
---
Back to Old Computers

Copyright 2004-2009 Dave Dunfield.